About
The European Automotive Specialist!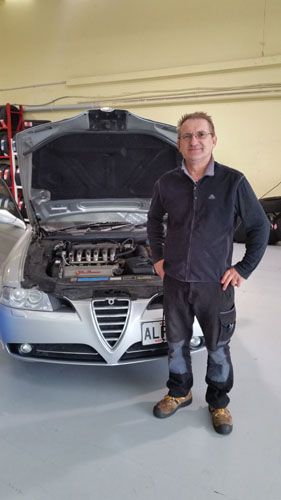 Nick, the Alfa Doctor
My name is Nick Nikolovski. I was trained as an automotive mechanic in Europe where I have over 17 years experience and a further 33 years experience here in New Zealand (with companies like Continental Car Services where I was recognised with their Top Technician award).
I would like to introduce you to West Euro Auto Limited where our goal is to offer Alfa Romeo and Fiat owners a quality service facility with full diagnostic equipment at a convenient West Auckland location. Our service prices are a fraction of the dealerships.
Of course, while we specialize in Alfa Romeo and Fiat servicing, we work on all makes and models of cars cars providing servicing, repairs and WOF.
We also offer a range of car grooming services and can restore the luster in your pride and joy for summer.
We look forward to being of assistance to you. Please phone us to discuss your vehicle servicing needs and, if necessary, we can arrange a courtesy car or transfer of your vehicle.